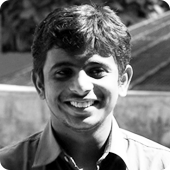 Feb 16, 2005 - The day my younger brother left this world. He was a 20 year old visionary who's goal in life was to build a company that could transform and inspire people to live a better life. Little did he know about what was written as part of his destiny, to leave us at such a young age, with most of his dreams and wishes unfulfilled.
After two years of recovery, from dealing with the most shocking incident in my life, I decided to pursue his dream for him and create a company on his behalf. This was the only way I could pay tribute to the one I loved the most and the one who had inspired me to be the person I am today. That marks the birth of "Sudarsan Technologies" which was later renamed "Gman Labs".
I started the company with my younger brother's friends Pradeep and Rajesh. The venture was fully funded and supported by my parents without whose support, this would never have been possible.
I met some amazing people along this journey, who are still the strong pillars of this company today.
Our aim is to build products that bring us joy and that we are passionate. We care about the little details, that go a long way in providing a fulfilling and beautiful experience to people. We are happy, proud and overwhelmed with the phenomenal response and success that has come along with us on this journey!

Archana Patchirajan
Founder